EARN MONEY THROUGH AFFILIATE LINKS
When you join our affiliate program we pay you 20% for every book sold through our links on your web site. All sales are tracked by independent accounting from our E-Junkie shopping cart. Every month E-Junkie sends reports detailing any sales and money due and we pay you within 30 days of receiveing month end statements direct to your paypal account
2 Easy Steps to become a Dogs of Sherburne Affiliate
1. Join our affiliate program by registering below - it's free!
Join our Affiliate Program! managed by E-Junkie.com
2. Return back to this page and choose a banner below to past on one or all of the pages of your web site. If you do not manage your web site then your web master can easily paste the links or banners for you.
When someone visiting your site clicks on the banner they are taken to the Dogs of Sherburne web site where they can purchase the novel. Even if they do not purchase the novel upon their first visit they are tagged as having linked through us from your web site and that is valid for 6 months. So anytime in the next 6 months if they decide to pucrhase the novel you will earn 20% of all sales (not including shipping and tax).
INSTRUCTIONS FOR ADDING A BANNER BELOW
TO THE CODE PROVIDED BY THE E-JUNKIE AFFILIATE TRACKING SERVICE
I will gladly assist you in setting up your affiliate links so please call or email anytime
Once you join our affiliate program by clicking the red link above you will manage all your tracking and codes from the E-Junkie admin page.
From the Affiliate Admin selection click Get Affiliate Code.
Towards the bottom of that page you will see a heading Get Product Specific Affiliate Links. Click Get Affiliate Code below that selection.
You will see the HTML code in a yellow box. Copy and paste that code in your web site where you want the banner to show.
Here's the most important part. You must replace the part of the code that reads...
Click here to view more details</a>
With the code under the banner of your choice on this page.
Once that code is replace you can upload your page to your server and the ad banner should appear on your web site and track sales of the book.
---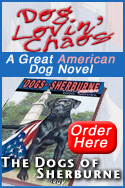 <img src="http://www.dogsofsherburne.com/ART-DOGS/AD-1.jpg" alt="buy a great american dog novel" border="0" /></a>
---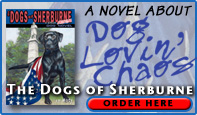 <img src="http://www.dogsofsherburne.com/ART-DOGS/AD-2.jpg" alt="buy a great american dog novel" border="0" /></a>
---

<img src="http://www.dogsofsherburne.com/ART-DOGS/AD-3.jpg" alt="buy a great american dog novel" border="0" /></a>
---